I purchased an 8GB Glacier clone from tinydeal.com so I thought I would write up a small review about this little player.
First off there was the delivery of the package, I have to say that Tinydeal was very fast with the shipping, the package arrived 10 days after I have placed the order and that includes one weekend so thats not bad at all. The player showed up in very good condition in a padded envolope that contained a small brown generic box that held the player and other included items.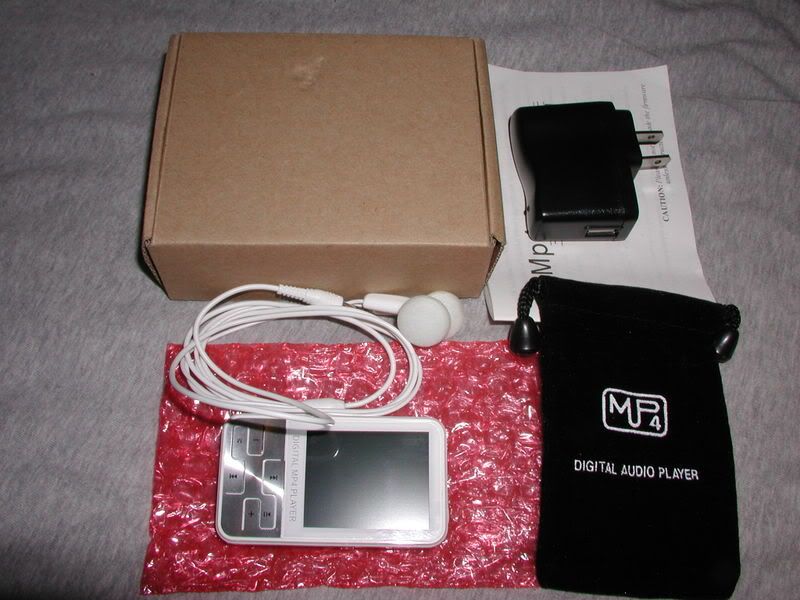 Upon opening the box everything was just as I expected, well packed and in perfect condition.
Well the player seemed just like any other actions chip player, the menus along with the music and video playback where all typical, the screen is very bright and much better than my previos Nano clones and it appears to be a very well made Mp4 player, I dropped it from about four feet up on to the hard kitchen floor, it wasn't planned but it happend and the player suffered from no problems afterward and stll worked great. The internal speaker sounds very clear but it's not very loud and I guess you can't expect much from a speaker that size, as always the included earphones are not the best, but they are very usable if needed, they are not very comfortable but the sound was actually better than any of the other ones I have recieved with players in the past. I have been using the clone for a few days now and have no complaints about it yet, except that there is a tiny red dot on the display in the far left corner, you really don't notice it unless you actually look for it.
Well now on to the big question, Is thing thing really an 8GB player?
The first thing I did was the memory hack removal using the disk tool and everything shows up showing a full 8 gig player, but I thought to myself it can't be. I then tried formating with windows and it shows the same thing 7668 MB of free disk space, then I also formatted with a HP removable disk tool with the same results. I still could not beleive that this could be a true 8 gig player so I had two DVD image files that I compressed in Winrar for a total of 6.8 GB and loaded them into the player, I then extracted them from the player to my PC with no problems or errors of any kind.
I still found it hard to beleive that this $50 player was a true 8GB so I decided to open it up and have a look at the memory chip for myself, and to my suprise there where two Hynix 4GB chips in there, WOW!!..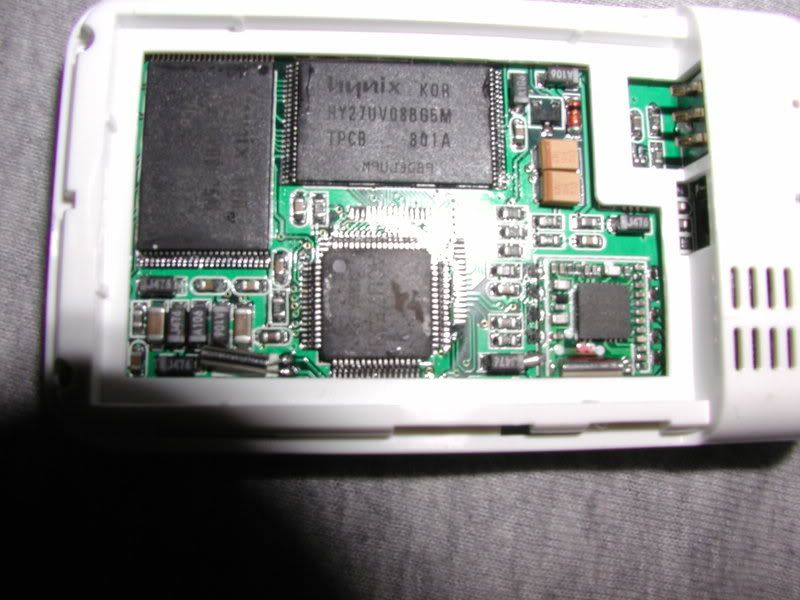 Well in conclusion I have to say that this is the first 8GB actions chip player I have ever seen, and that Tinydeal is a great seller and I will surely be buying more from them, I hope this little review helps a few people out, Thanks