SOFT Rockchip Dead Player Recovery.
(Please try this first)
Important Note: Both
the following 2 procedures are only really useful to you if you have a known working firmware for your player, I was lucky I had already managed to find one before I tried this.
Before
you open your player
PLEASE
try the
SOFT
Dead player recovery procedure below, it could save you a lot of hassle opening up your player:-
All you do is this,
1) Switch the player OFF using the main on/off switch.
2) Hold down the "MENU" or the "PLAY" button and keep it held down.(try the other buttons if these dont work)
3) Connect the usb to the player.
4) Wait for about 10 seconds before releasing the menu key.
5) You are now in
"RockUSB"
upgrade mode!
6) Then just Start ConsumerUpdate and upload a working firmware and try it!
ConsumerUpdate should also
REBOOT
the player before starting the upgrade.
HARDWARE Rockchip Dead Player Recovery.
(Last resort)
Whilst experimenting with firmware I blanked out the screen on my Rockchip player.
No problem I thought I can still navigate the menu "blind" and restore it to a firmware I know that works ok (I'd done this about half a dozen times before already)
But this firmware was different I just couldn't find the Upgrade option, after about 30 attempts and three hours later I realised it's time to try a full
HARDWARE
dead player recovery (something I'd been dreading)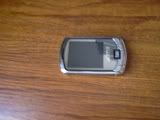 Armed with my mini screwdriver set I started opening my player, 8 screws to take the case off and another 3 to lift the pcb up.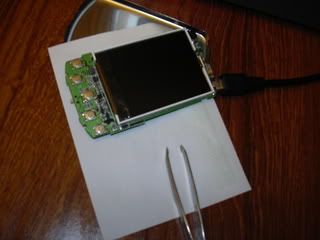 I noticed right under the display there is a big chip with 1 row of legs showing so I got a pair of tweezers and connected the USB to my PC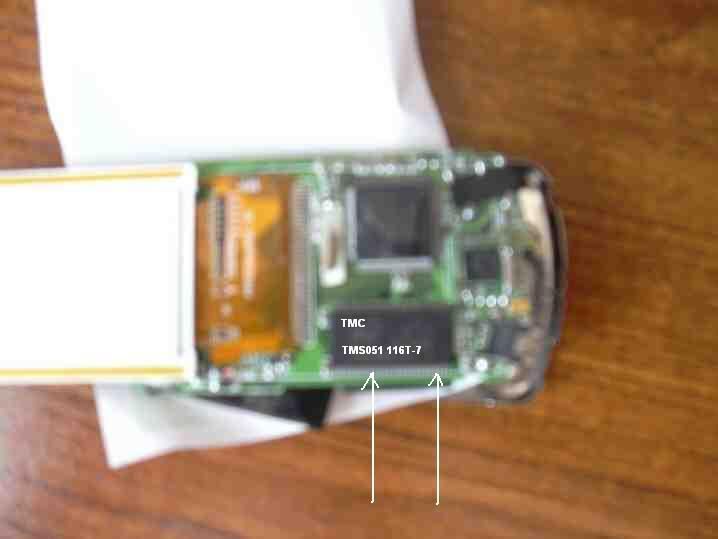 I didn't need to lift the display up to get the tweezers in but here's a picture showing the chip in case yours is different.
With the USB connected I ran the ConsumerUpdate program and loaded a known working firmware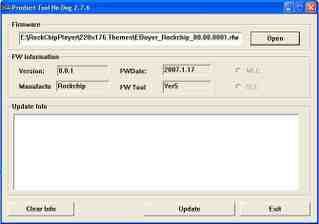 Now for the next bit make sure your PC speakers are switched on.
All you need to do is simply run your tweezers across the chip legs on just that 1 side and wait for "Clink Clunk" sound of a USB connected notification from your PC, I'm not kidding it took no more than 5 goes with the tweezers to get it to connect.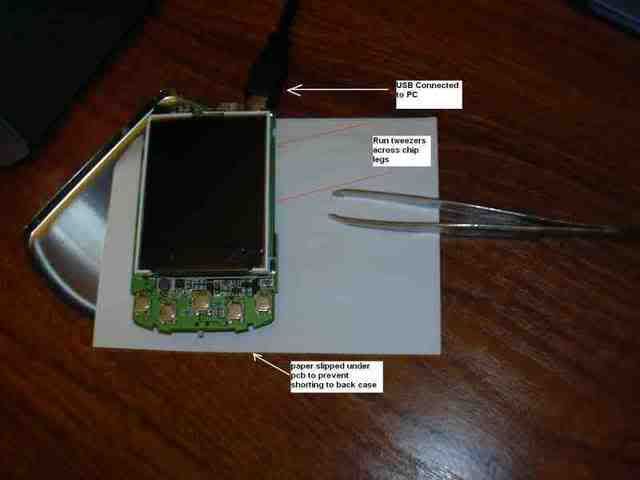 So all I did then was quickly click the Update button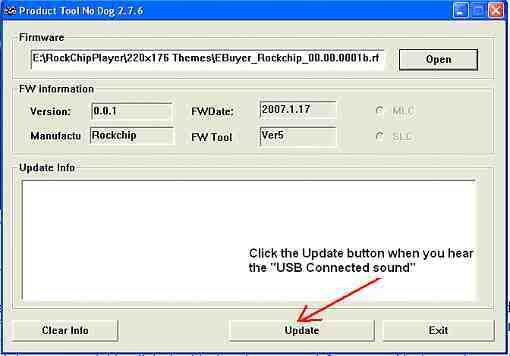 and ConsumerUpdate rebooted the player and started the update, It was that simple, I got my player back.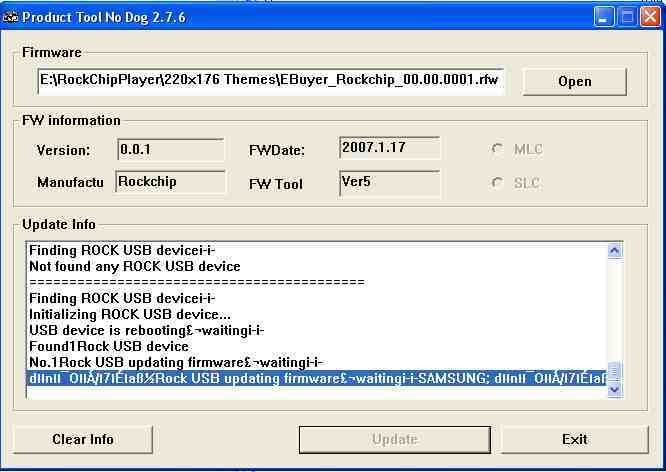 I'd say that the whole operation took no more than 15 minutes including opening the case and putting it back together again.
The only difficult part is you
must
have a firmware which works with
your
player and until we find a way to extract and backup our firmware that will always be a
big
problem.
Here is a link to some firmwares, tools and player documentation that I have recently found (not all are Rockchip some are Actions based).
D-Chord player range firmwares
DEC Player Pix
DEC Firmwares
ONDA downloads
Massive unbranded firmware search engine:-
http://www.s1fw.com/
PLEASE only use these firmwares for DEAD player recovery. From my own experience there is probably a 90% chance they will
white screen
your player -
you have been warned!
edit
You may find it easier on your player to try shorting the following 2 pins:-
These are the actual pins (posted on a Chinese website) which have also been found to need shorting to get into RockUSB mode