Hello,
I am currently writing a review of a player I've recently received from MP4Nation
http://www.mp4nation.com/
The JXD301.
(
You Tube review here:
http://www.youtube.com/watch?v=nRv7oJWTzS0
)
This review is evolving! I will keep editing it as I come across more features. I will also add photos where appropriate.

Re: JXD301 3" LTPS 2GB MP4 Player [Firmware 9.2.11]


Screen:
The 3" LTPS screen is very clear, and has a very good viewing angle. I would compare it to a high quality desktop TFT monitor. It doesn't have the razor sharpness of an OLED screen, but it is extremely pleasing. Fast moving images don't ghost, and as you can see in the next two photographs, the image doesn't go too dark or too light at extreme angles, unlike an LCD.
Screenshot at extreme angle: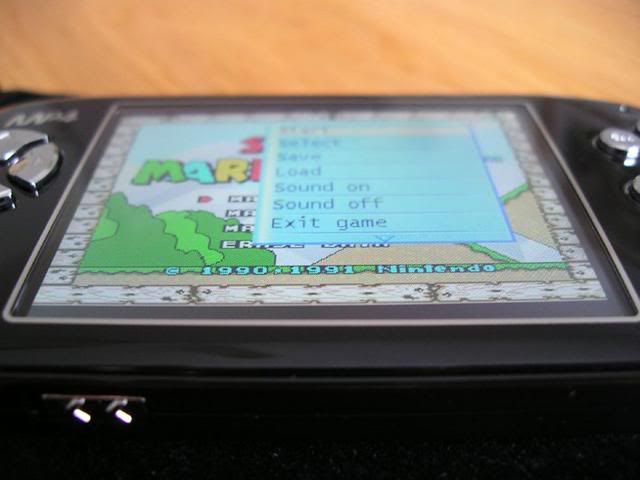 Tip:
The screen brightness can be adjusted by pressing and holding the up or down keypad buttons while watching a movie.
Sound Quality:
Through the headphones, it's excellent! I couldn't detect any hiss at all, and there is none of that 'digital' ticking noise you sometimes get with cheaper players (except when it's plugged into the USB or external charger).
The built-in speaker is very good - far better than I've experienced on the Rockchip players I've owned. I would compare it in loudness and quality to a modern cell phone.
Music Player:
Normal MP3 player type functions here, and you can select and edit the equalizer options whilst in the music player. The sound quality is excellent and there is a fast moving set of equalizer bars which jump around in time with the music.
Unfortunately, like most MP3/MP4 players in the sub $200 area, the music tracks are played in alphabetical order, as opposed to the order in which the recording artist intended!!
There are 2 x 3.5mm Headphone sockets. Putting headphones into either, disables the front speaker.
Equalizer:
There is a 10 band graphic equalizer, with additional bands for adjusting the pre amp volume, as well as BBE, SRS and BASS. It doesn't have quite the dynamic range of the Meizu M6, but it's still got plenty of tweekability. What I have noticed, is the changes you make to the equalizer can take over a second to actually make themselves heard, so optimum tweeking is a delicate process.
Build Quality:
This is a well built player. Although the case is entirely made of shiny black plastic, it doesn't feel as if it's going to break in under 5 minutes! The plastic is strong, it doesn't flex, and is sufficiently thick enough to protect the screen.
The buttons are nearly silent, which means you can play without getting moaned at for making annoying clicking noises!
Voice Recorder:
TBA
E-Book reader:
I have only briefly played with this, but have noticed that even though the characters are easy to read, the text doesn't word-wrap. This makes reading a bit annoying, and I am not really sure how useful these e-book readers are in MP4 players - At least you can have a little bit of fun with this one as it can read out loud. There is only one voice, and that's of a very oriental sounding lady! Bit of a gimmick, but a good laugh, especially of you get her to say all sorts of unmentionable things!
SD Card:
This player takes full size SD cards; it's easy to put one in, but not so easy to take it out again, as there is no eject mechanism - You won't really be able to take a fleet of SD cards with you with different movies on, as removing the SD card is difficult. The usefulness then of the SD slot is to serve as a memory expansion port, e.g. to increase the JXD's capacity from 2 to 4GB.
[EDIT] - Thanks, Retro Junkie! Indeed, there is actually an eject mechanism - you have to push quite hard, but the card will come out.
What came on the CD?
- There are some example photos, music and games. There isn't any movie creating software, but it's pretty easy to pick up something like AviConverter 3 etc.
Games:
There are about 5 or 6 games pre loaded into the unit, with about 10 more on the enclosed CD. The NES and SNES games play very smoothly, as expected down to their basic format I guess. The Neo Geo and Sega Mega Drive games play smoothly when the sound option is 'off' but are a little jerky when the sound is on (worse with the MegaDrive Roms). I will experiment more and will update this section as necessary.
The buttons are logically laid out and any extra buttons which a given game might require (e.g. select, start etc) are catered for temporarily by pressing the ON button and selecting from drop-down menu.
As with the Movies, you can save one progress position per game.
The sound is in stereo, when headphones are used (assuming the ROM is coded in stereo in the first place).
NES / SNES
- Seem to run very smoothly, with or without sound. Great fun!!
NEO GEO
(not pocket)- These run well, but I've got too few ROMS to experiment fully with.
SEGA MEGA DRIVE
- Very smooth with no sound, and a little choppy with all that hectic music playing!!
GAMEBOY / COLOR
- Some success - still experimenting
GBA
- forget it!! Very choppy so far, but I will try again.
PLEASE NOTE, MARIOWORLD AND SONIC DO NOT COME WITH THIS PLAYER! I ALREADY HAD THE ROMS.
Movies:
This is the main reason I bought this player, and so far I am not disappointed with it's movie playing ability (like I was with the Meizu M6). I have only experimented with xvid / .avi's at the moment and at 25 FPS they are so smooth and jerk-free AND the audio remains in sync! PLEASE NOTE, THIS IS AT 320X240 RESOLUTION. BIGGER RESOLUTIONS MIGHT NOT BE SO SMOOTH.
Fast forwarding through a .avi is a little tiresome, as it takes about 3 seconds per minute - although I noticed the .rmvb movie which came with the player fast forwards much quicker.
There is a handy facility for saving where you've got up to in a movie, and you can return to your saved position even after you have left the movie and gone into another one (Let's say your movie is called "Bond.avi". It creates a 'save point' called "Bond.DAT" which you can load next time you are watching the movie). You have to remember to perform the save operation yourself, as it doesn't do this automatically when you leave.
I had created about 100 movies using Xilisoft's DVD2MP4 converter for use with my Rockchip players, and these movies play flawlessly on the 301.

How to set the language to English:
If your player arrives with its language set to Chinese, then in the CONFIG menu, navigate to the Chinese characters shown below, and English is the third language down.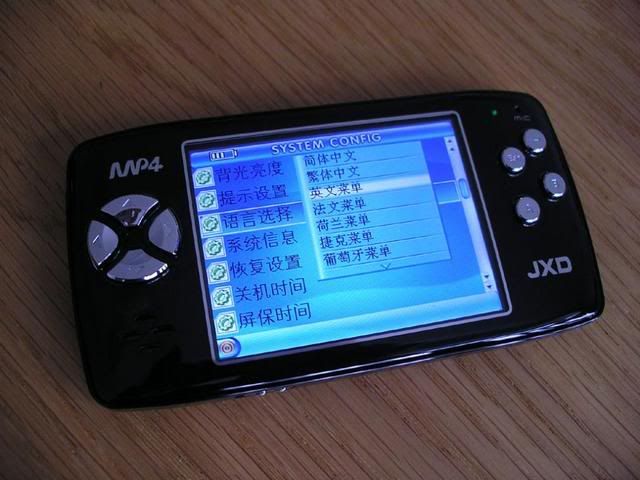 Filing System:
Ok, this is hard to describe, but I'll try my best! As far as I can tell at the moment, when you copy a file across, it needs to go into the correct folder. e.g. movies go in the movie folder, games in the games folder etc [these were in Chinese on my player and needed to be renamed]. After loading a movie into the player, when you look for it under the players 'movie' menu, it won't be there. Instead, you have to go to the 'DISK' menu and find your movie in the appropriate sub folder there. If you want the movie to appear in the Movies menu, you can set it to do so from here. This is the same for games, pictures etc. A bit weird, but what this does is it allows you to create your own 'favourites' as such.
UPDATE:
Having worked with it's filing system for the last 2 days, I actually really like it now, and find it quite intuitive. It's a bit like having a mini version of explorer. All your music, games, movies etc are accessible in DISK menu, but the ones you want easy access to can be copied (link rather than whole file) across to the player's GAME, MOVIE, MUSIC folders etc. I have about 500 SNES games on the SD card, but of course, I don't want to play all of them. The ones I really like I can 'link' into the GAMES directory for ease of locating later on.
Themes:
There's a blue one, and an identical gold one! That's it!
Wallpaper:
As far as I can tell, this doesn't mean you can select a backdrop over which the menus etc are superimposed. It just seems to be a feature allowing you to choose which picture is shown when the player starts. I will advise further details after a bit more playing.
Battery Charging:
Unlike most MP3/MP4 players, the JXD301 appears not to charge via the mini USB port. Instead, it has a dedicated adapter port. When it's charging, the green LED is accompanied by a red one. It took about 3.5 hours to charge from empty.
However, the player seems to accept power from the USB port, albeit it won't charge from it.
Battery Life:
It seems to be running for around two hours at max screen brightness, although to be honest, I haven't really had time to just leave it running and check. I have a long-haul plane trip next week, and should be able to time it's battery life more accurately when I'm stuck on the plane.
Power Adapter
: The one I received is the 2-pin type, as shown below. I would have like a 3-pin UK version, but I had a converter lying around so this wasn't a big problem.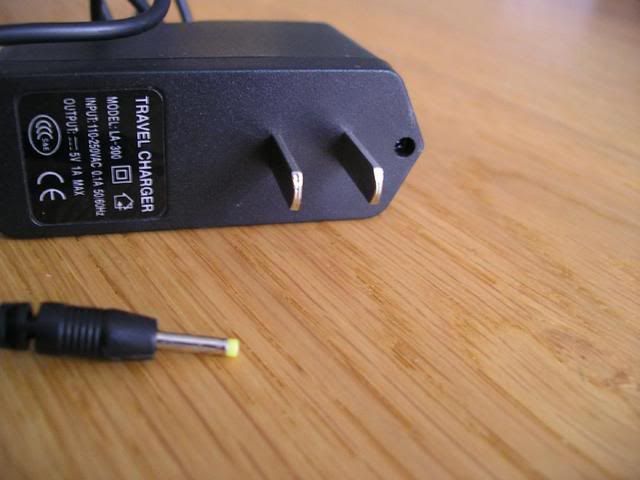 Manual:
It's all in Chinese!! I don't know if they have an English version, but I managed to work out what everything does without too much difficultly.
FM Radio:
There isn't one, and that's quite unusual in these types of players, although there are certain licenses required in parts of the World and occasionally a manufacturer chooses not to build in FM reception (or disable it through firmware modification)
Firmware
- There doesn't seem to be any alternative firmware out just yet (Oct 2007), but it is very easy to access, and therefore backup the firmware which is on the JXD301. While the player is off, press both the right [>>] button and on/play button simultaneously - don't release them until an orange screen appears for about half a second and goes blank again. The green LED will remain lit, and now connect the JXD to the PC. You will now have access the the 32mb Flash which holds the firmware.
At the moment, there is a file called
main.ldr
and a folder called
mguires.
You can easily copy those across to your PC! Hurray, well done JXD - why can't Rockchip players be like this!!
I was even able to load the Ainol V2000 firmware into it!
[not recommended, as this might invalidate your warranty!]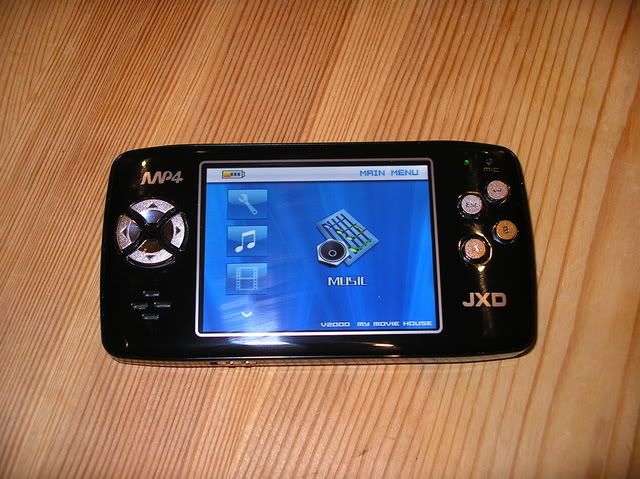 Size:
You can see, it's about the same width as a CD, and depth wise, it is about 10mm.
Overall Rating:
9.5/10.
Would be 10 / 10 if you could charge from the USB port.
Things they should improve:
Well, at the moment the more I use it, the more impressed I am! No doubt I'll have a few suggestions as time goes by, but the most obvious improvement would be the ability to charge the unit from either a USB port, or a USB charger. I don't know whether the current lack of this facility is down to the hardware, or firmware.

Would I buy another tomorrow if I lost it?
In a flash!
THIS REVIEW IS NOT FINISHED YET
- please bear with me!!